A beautiful deck can be a simple platform, or it can be multiple levels with railings, staircases, and landings. Depending upon your tastes, you can make it look like an extension of your home, or maybe you prefer a distinctly different look that creates a new sense of place.
Simple or not, however, the railings you choose can enhance and complete the look you're after. For decks that are 30 inches or more above grade, railings are required for safety, as well.
In our blog, "Deck Design: Things You Should Consider," we looked at different architectural styles of deck rails to choose from. But there's more than looks to consider when choosing your deck rails.
Safety First
Perhaps the most important aspect on which to base your deck rail decisions is safety. The state and most cities and townships have very specific requirements for residential building that must be complied with. This compliance may require an inspection and one of the things that will be looked at closely is the railings, both around the perimeter and on many stairways, ramps and walkways. Among the safety concerns with rails are:
Rail height — Varies from 36 to 42 inches from the deck surface to the top of the rail. The bottom of the railing must be less than 4 inches from the deck surface. Your local municipality will have the exact requirements.
Stair railings — For open stairs exceeding 30 inches above the ground, generally a minimum height of 34 inches is required. Other spacing limitations must also be observed to ensure small children cannot fall from between the bottom of the railing and the top of the stair tread.

Graspable rail

— Stairways of more than four steps and ramps must have an uninterrupted, graspable handrail to meet very exacting codes.
Baluster spacing — The space between balusters must be less than 4 inches.
These are just a few of the rules covering deck construction and rails so work with an experienced contractor or take time to learn your local codes.
---
Deck Railing Material Options
Choosing rails for your new deck can be tricky and time consuming, so it's best to begin by understanding what types of materials are used in different rail options. Each has its own pros and cons to be considered, so that your final choice is your best choice. Here's an overview of the most common commercially available types of deck rails.
Aluminum – Very durable, stays cool, is rust, rot and corrosion resistant, and low maintenance. It is also available in a variety of colors and baluster options. Very expensive and its modern profile may not be suitable for all home architectures.
Steel — Very strong and durable. Not rust resistant and heavy to work with.
Stainless steel cable — Very durable and is low maintenance. Cable is available in different diameters and can be installed horizontally or vertically. Not recommended for areas frequented by children and may not meet local codes.
Wrought iron — Strong, durable, and available in many variations to meet different architectural needs. Heavy to work with.
Wood — Strong, attractive, relatively inexpensive, and easy to find. Requires a high level of maintenance to stain or paint, may damage easily, and is susceptible to weather, insects and decay.
Composite (wood and plastic) — Durable finish and rust free with many colors to choose from. Some brands are not "capped" in a high-performance, weather-resistant shell that resists stains and fading.
Glass — Tempered safety glass offers unobstructed views, will not rot or rust, but may chip. High maintenance required to keep clean and may raise deck temperature.
Vinyl — Low cost, low maintenance, light weight, and easy to install. Low durability, limited color options, and could become brittle in cold weather.
---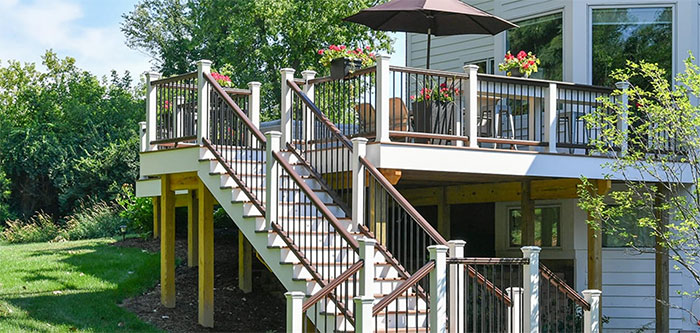 Tips for Narrowing Your Choices
Budget, color, architectural preferences, weather impacts, maintenance requirements, view, height, lighting options, and more will influence which deck rails you choose. Let's look at a few considerations you might not have thought of.
1) Color Scheme: When choosing a color scheme, keep in mind that colors can look very different indoors than in direct sunlight outdoors. Also important is the appearance of colors at different times of day and on horizontal and vertical surfaces. The human eye takes in all aspects of lighting, so thoroughly check your colors at different times of day and on different surfaces in the area of your new deck.
2) Deck Lighting Systems: If you choose to have deck lighting in and along the rails, check to be sure the manufacturer offers lights that were designed to work with your deck rails and posts. These lighting options should fit the rails and posts, remain unobtrusive, and work well for years.
3) Consistent Material Quality: If you plan to go with composite materials, make sure that all components of your deck meet the same level of quality as the decking. Not only do you want all the components — including rails and posts — to match seamlessly, you also want them to hold up well together for years without some parts fading or failing. In short, check warranties before you decide.
4) Cleaning & Maintenance: Remember that, like your deck surface, your deck rails will need periodic cleaning. That can mean anything from using a power washer at least once a year (and likely applying new paint and stain afterward) to soap-and-water maintenance. So when calculating your overall costs, don't forget to factor in the cost of renting or buying a power washer, hiring a maintenance company, and the time spent washing, painting and staining.
5) Proper Load Resistance: If your deck requires guard railings because of its height, make sure that your rail choices meet codes not only for height and baluster width, but also for load resistance so that the impact of someone or something does not cause the rail to fail. Your contractor should be familiar with these requirements.
---
Your deck rails aren't just a beautiful part of your new deck, they're an essential component, so attention to detail is key. A little time taken up front will help ensure your deck is well-built, safe and beautiful!
Find out more about designing and building a new deck in our blog, "Deck Design: Things You Should Consider."