If you've been dreaming of summer days spent lounging, entertaining or barbecuing on your new deck, now's the time to dig in and start planning your deck design. Whether your deck will be simple or elaborate, knowing what you want to include and where you want it located will help you and your designer create the deck of your dreams.
To begin, make a simple list of all the elements you want included in your deck design.
Essential uses
Decks are great for so many activities and events, but to ensure you can get the most from your deck design, it's smart to develop all the possibilities. For example, if you were building a home, you would consider features like number of bedrooms and bathrooms, kitchen layout, family and living room preferences, and so on. The same is true for your deck. Even though it won't be divided into rooms like a home, visualizing how different areas of the deck will be used will help define size, layout and more.
Among the many possible considerations are:
Traffic flow from house and other entrances/exits.
Accessibility.
Grill/kitchen/bar space.
Sitting/dining space.
Group lounging areas.
Secluded space.
Shaded space.
Built-ins (firepits, hot tubs, planters, etc.).


---
All About Levels
Decks come in all sizes, shapes and levels and are as diverse as the homes they enhance. In particular, multi-level decks have become more common, but are especially well-suited for two-story homes and/or lots with varied elevations. Depending on the possibilities provided by your home and lot, you can choose:
Ground-level decks (or platform decks) have one main level with other levels defined by steps. These decks are near grade, but can be designed to accommodate many different uses and home styles. Decks near grade can also easily be made accessible for the disabled and may not require railings to meet building safety codes.
Raised decks are recommended for homes with above-grade first floors like those with walkout basements. These decks are built on foundation posts and will have space underneath that is either:
• Limited and can be concealed, used for storage or landscaped.
• Tall enough to provide useable living space.
Second-story decks work well on homes with backyards that slope away from the foundation, but they can be designed to accommodate just about any home style or lot. They can also be combined with ground level decks and/or patios, built-ins, and landscaping to create your perfect outdoor paradise.

Multi-level decks are a combination of any or all of the above and are especially useful when accessibility is necessary, and when features like pools, hot tubs and fire pits are part of the plan. It is important to note that all decks must meet local building codes so hiring a reputable contractor is key to success and safety.

Curved, straight or both?
While many of your deck style and design decisions will be based on practical needs, the "look" of your deck offers more flexibility. One of the most visually exciting possibilities is to incorporate curves into your design.
This requires the use of building materials that are bent to exact measurements and are often accompanied by railing that is also curved to create a fluid and flowing look. Curved decks complement homes with rounded rooms or porches, but they can also add natural beauty to homes of many other styles. Curves can be added to one or many areas to get the look you envision.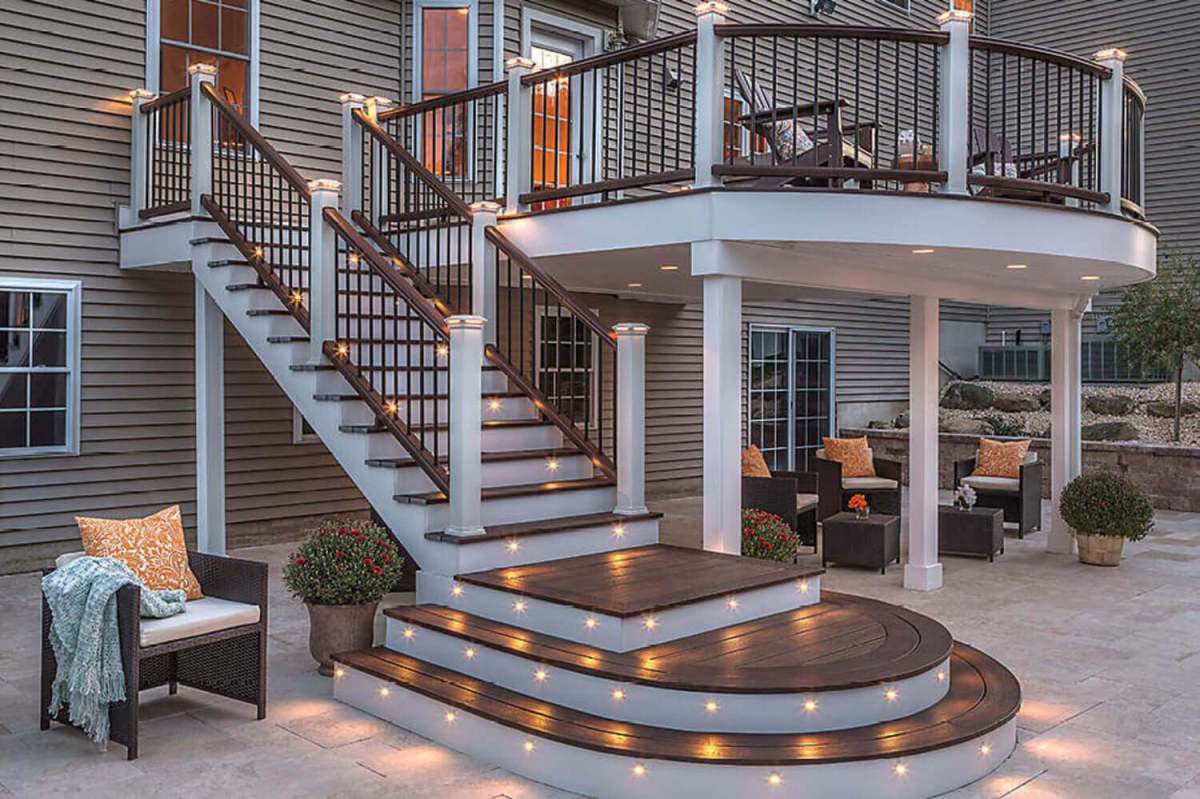 Lighting the way
Deck lighting used to involve strategically placed citronella candles and maybe a porch light or lantern, but things have changed! There are so many lighting options now available that offer such unique and interesting ways to illuminate that you are sure to find the right combination. Here are a few of the possibilities:
Deck post cap lights — Lights are installed in the post caps.
Recessed in-floor lighting — Works well for high-traffic areas and near stairs.
Recessed overhead lighting — Best placed in work areas (near the grill or kitchen for example).
Under-rail deck lighting — Provides a warm, continuous light.
Stair riser lighting — Perfect for all stairs especially in areas where there is little other lighting.
Landscape lighting — Well lights and spot lights can create a dramatic look when placed around plants and trees.

Natural features and built-ins
By now your deck design wish list should be nearly filled out, but there are still a few more things to consider before you're finished. The first is maximizing natural features like trees, woodlots, ponds, even views. Each of these can be worked into the design so they are assets rather than issues. For example, if you have a wonderful view of a lake available at only one spot, consider that view in planning how you apportion space to different activities. A spot with a view is perfect for sharing with guests so it shouldn't be wasted by using the area for the grill or kitchen.
You should also decide where you want to place built-ins like grills and fireplaces to best utilize them; hot tubs, showers, and kitchens that require plumbing and electricity; and other decorative aspects like planters and built-in seating that doubles as storage.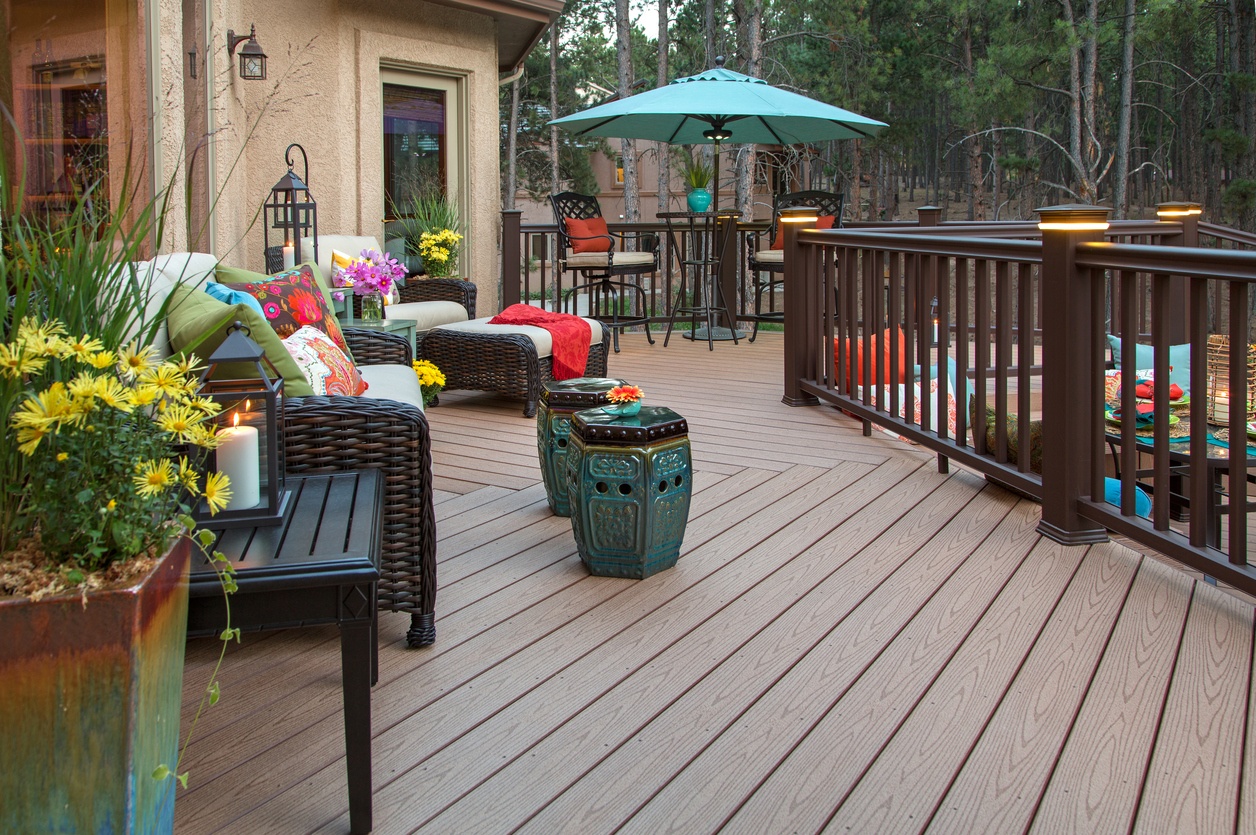 Have more questions about planning your dream deck? Read our blog, "Deck Design: Things You Should Consider."