Whether you're planning a kitchen, bathroom, or basement remodel, one of the most important steps in this process is product selection. With so much information out there, it is easy to get overwhelmed in the details. See our tips below for getting started on your selection journey!
Think Function
Before beginning the exciting process of choosing the products for your upcoming remodel, it is vital to consider the function of products and flow of your space. This will form the basis for all your choices.

If you are looking for a fast-fill tub faucet, this will eliminate options and give you clear requirements. Or, if you have a specific layout in mind for cabinets, this may lead you to work with a vendor on custom cabinets instead of choosing prefabricated ones.

Websites like Build.com by Ferguson are very helpful when choosing selections. They have thousands of suppliers with all the details on function and size readily available in the descriptions.
Identify Your Style
When identifying your style, a great place to start is by creating a Pinterest board. Find an image you like and consider, what stands out to you? Is it the dark bold colors? Or maybe the statement faucet?

If you are having a hard time identifying what you like, try identifying what you don't like. Too many patterns? Too much contrast? Too white? We each have our own style and it is important to find yours.

Once you have inspiration for what you like, it is helpful to identify the style by name. This way, when you are looking for products, you can search specifically. For example, search, "Mid-Century bathroom vanity" to find a specific bathroom vanity.
Several popular styles include:
- Cottage
- Modern Farmhouse
- Mid-Century Modern
- Traditional
Create a Mood Board
New to mood boards? This revolutionary tool is exceptional at helping to narrow down your ideal selections. View the images below to see what a mood board can look like: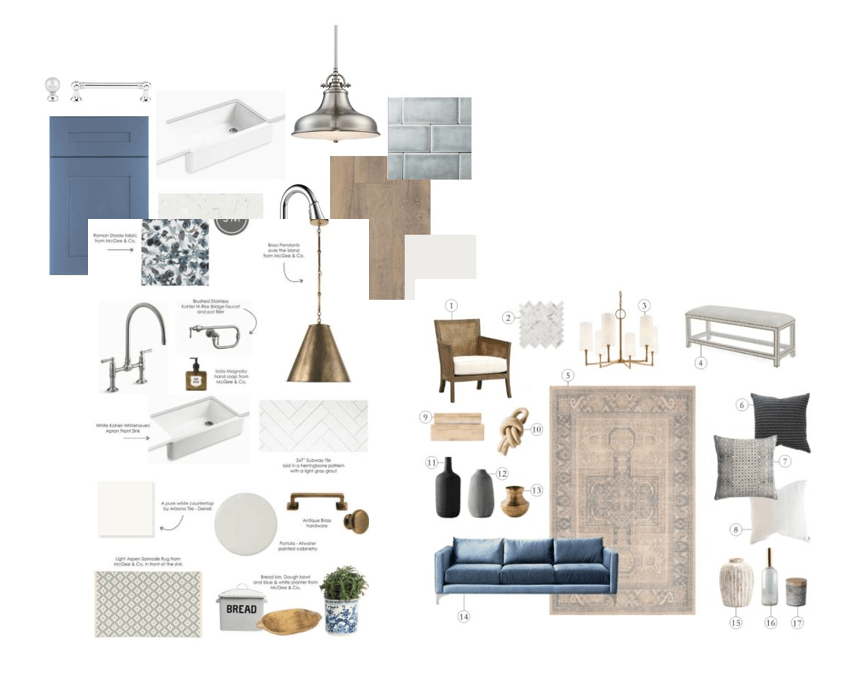 Notice how a mood board pulls all your cosmetic selections together onto one page, giving you an easy visual. It allows you to quickly identify whether the selections you are choosing will coordinate in the way you envisioned. We like to use PowerPoint or Canva for creating our mood boards!

Another option is gathering sample pieces to create a physical mood board. Lay all your sample pieces on your kitchen counter to see each piece together.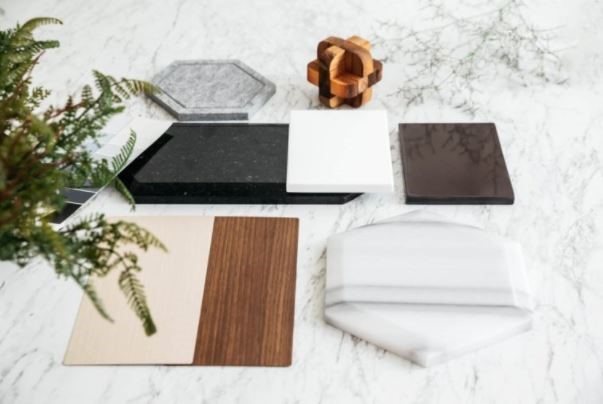 Set a Time Frame
To keep your selection process effective, identify a time frame that will keep you on track and productive. We recommend setting up a calendar to show when each selection needs to be finalized.

Because there are so many options out there, it is very easy to become overwhelmed if this step is skipped. Though a small task, setting the time frame is integral in creating a fun experience during the materials selection process.
Collaborate with others
Whether you go to a local vendor or invite a friend or family member to chime in, getting a second opinion is always helpful. Collaboration is key in the design world. Thinking outside of the box and dreaming should be welcome during this phase.
We love collaborating with others by discussing new trends with team members, looking through Pinterest, and staying up to date with large design companies like Magnolia Farms and Studio McGee.
Remember: this is Your Home
Everyone has different styles, likes, and dislikes. Remember: this is your home. Get creative and have fun with this process. It is your space, make it just that!